By 2005, my family had moved from my parent's former home in the west end of Richmond to just across the University of Richmond lake to Westham. Our children had both graduated from high school and were in college. We had build a garage at the now home that included a small room in the south end that I claimed as a recording studio. Josh Jones and I had custom built a PC to be the digital audio workstation (DAW), I had acquired some good microphones from Cy Taggart and started working on some new material.
Josh Jones improved much of this material. You can read all the details in the liner notes.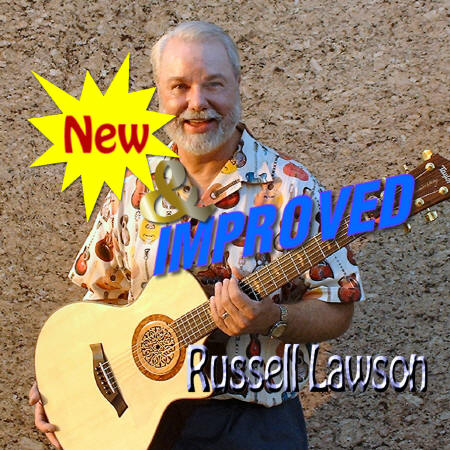 From 2006! Sixteen tracks of high definition audio made in the Third Floor Studio in Richmond. Eight years in the making. Definitely some new songs, and some improved.
Complete CD Notes:
Every artist must have a very personal experience of the act of creation. I say that because it would be hard for me to believe that anyone else experiences their creativity the way I do mine. It is a bumpy ride. Take this latest CD, for example. I have had this as a goal since 1998. Really. That's when I finally put the many tracks I had mastered on cassette tapes since 1990 on a CD, called "Home Cookin'." At about a tape every two years, and six to seven tracks per tape, I had more than a CD's worth. So I took the ones I had done the best job at executing and sixteen went on the disk. Burned 'em myself (hence the title).
Thought I'd get right on the job of remastering the rest. Then came job change and more job change and life and so on. During this time, I was getting more and more involved in the St. James's West Gallery Choir and my Choirmaster Virginia Whitmire was encouraging me to write for church. Prayerfully, I was inspired to try a few songs, usually based on some tune from my long ago writings. Surprisingly, Virginia celebrated these gifts and into the program they went!
Meanwhile, I had started playing folk, country and bluegrass with a number of friends, such as Liz Nance and Richard Rumble. Plus the great partners from younger days such as Dave Berry and Josh Jones were still part of my performing circle. And new friends like Karen Trump, Knox Hubbard of rockfish willie, Chris Edwards of Ring's End and more.
And, among all these influences, melodies and fragments of lyrics started to appear in my consciousness. Some, given the appropriate attention, grew into songs. So the CD, that I knew in 1998 would be called "New and Improved" started changing.
In 2005, I knew that I was going to have a shoulder repair operation. This came after two years of physical therapy and other "holding actions" like cutting down the amount of guitar I played, even selling my big dreadnought Martins in favor of a smaller "Grand Concert" sized Taylor. Each step was aimed at avoiding the inevitable operation, unsuccessfully. So early in 2005, I started the tracks that are on this CD, with a few exceptions. I had wonderful help on some of the songs from my friends, and constant encouragement from my dear wife, Katherine.
Before my doctor had me in surgery, I had most of the tracks done in MIDI and the guitar parts, as well. Over the next 12 months I added parts from other musicians and the vocals, with much of the work under the review and production of Josh Jones, my immensely talented friend in Fincastle, Virginia. The final mastering was done in July and August of 2006. Happily, even in the midst of all the production of completed tunes, new ones kept showing up.
I have learned over the years of my spiritual journey, that I hear my God most clearly in music. This is where my Peace comes from. This is where my relationship with Christ and the world is most humble and plain. This is where I feel loved.
Since I started writing the highly specialized poetry that is the popular song form, I have discovered that my voice and stories are most powerful when I am in them. It is difficult, nearly impossible, for me to craft a song that reaches outside of my personal experience. I am awed by Neil Young, Bob Dylan, Steve Earle, Bruce Springsteen, Harry Chapin, Jim Croce, James Taylor and so many others who can look outside themselves and create a moving message. But my way is my way and I am grateful for it. I hope when you listen, you will be, too.
Russell Lawson 9/2006
This CD is dedicated to the Glory of God.
I am indebted to Katherine for 34 years of love and support, to Virginia Whitmire for inspiration and musical enlightenment, and to Josh Jones for his patient improvement of rough drafts.
All songs copyright 2006.
Tracks:
Words and music by Russell Lawson, except where noted #, words and music by Josh Jones and Russell Lawson.
Russell: vocals, acoustic guitar, electric guitar, harmonica
Keyboards including MIDI programming by Russell Lawson and Josh Jones
Grateful thanks to:
Chris Edwards, mandolin (e)
Knox Hubbard, acoustic and electric guitars (h)
Josh Jones, acoustic guitar, electric guitar, vocals (j)
Katherine Lawson, vocals (l)
Liz Nance, vocals (n)
Andy Smith, vocals (s)
I play a Taylor 712ce, a Bourgeois Vintage D, a Fender Stratocaster and a Ibanez AFS75. Harmonicas are Hohner, as is my banjo. Amps are Fender Champion 100 and Acoustisonic Jr.

My main MIDI system is by Creative Labs with an Emu chip, simple system really. Recording is done on both a Yamaha MD-8 and the 80 GB hard drives in the PC Josh and I built. I use Beta Monkey drum loops.
A note on the songs:
U R the 1 – This was written for St. James's Church and is my paraphrase of the "Glory be to the Father and the Son and the Holy Spirit, as it was in the beginning is now and will be forever."
Intruder – my response to the beginning of the war in Iraq, as I tried to put myself in the mind of our leaders.
Moments – this is a favorite of mine from long ago, 1978, I think, written while in the Shenandoah Mountains, in a moment of longing.
Wheatland – memorializes the death of a good friend's 21-year old son, who was buried in the family plot at Wheatland on the Potomac River.
Penguin Blues – written with our children in the early 90's, as a homework assignment for Ben's second grade study of Antarctica.
Movin' On – written at the graduation of our daughter, Sarah, from high school.
Your Place – written at the graduation of our son, Ben, from high school.
Light – Crafted based on the Lectionary for the 2006-2007 church year, specifically Mark 9:2-3 and Ephesians 4:8-9.
Dark Threshold – Dave's wife Brenda succumbed to pulmonary disease in 2004 and it was an agonizing and profoundly moving event. As she passed over to the other side, the melody to this song came straight to me, complete. That had never happened before.
Cy's Shuffle – written for Cy Taggart, a terrific musician whom I met when he moved to Virginia from Chicago. The man can play almost any instrument, based on his sixteen years as a music teacher in Des Plaines, IL, plus he sings, arranges and composes. Remarkable.
Favorites – written with Richard Rumble in mind, a man whose immense joy in making music and intuitive playing have inspired many nights of singing "a few old favorites" together over the years.
Grandma and Me – written after hearing a visitor's comments at a meeting of the Virginia Organization of Composers and Lyricists (VOCAL). I based the details on the lives of my maternal grandparents, Harry and Rosy Salmons.
Friend – I started this for Dave Berry in 1977, and I was fortunate to have Josh Jones co-write it because all of the wonderful open chords and most of the best lines are his. This version was completed in 1997 in Josh's studio.
Rock Creek Blues — this is a true story, in fact, a couple of true stories rolled together. Katherine helped out with a couple of amazing suggestions when I was writing it, so thanks, baby!
Heaven – I started this song with only the line "Think about Heaven" and sent the completed lyric to Josh Jones. Back to me came this incredible song. I wrote an alternate melody and arrangement, called "Heaven 2", which I put on another CD.
Christmastime – I was going to sing a few songs at a December VOCAL Showcase some years back, and I had just heard the week before three or four wonderful Christmas tunes by other members during a regular meeting. I put this one together so I would have something seasonal in my set and ended up really liking it.
If you've listened and you have any thoughts about the music or writing, I'd love for you to enter them below.