New for 2011! Thirteen tracks of high definition audio made in three recording and production locations throughout Virginia. Five years of songwriting, plus a couple from the treasure vault.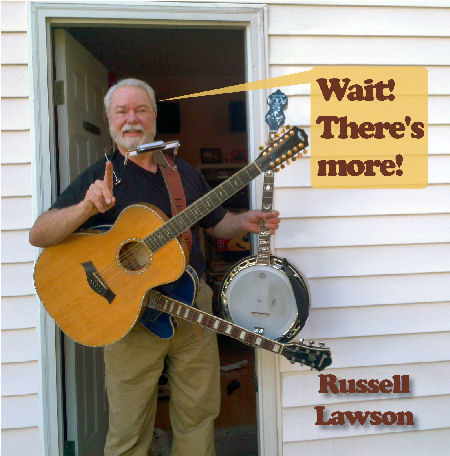 This work is dedicated to the glory of God and inspired by Katherine Lawson and Virginia Whitmire. I'm grateful to the following family and friends for these contributions:
David Berry (d) – viola
Sarah Breeden (s) – vocals
Knox Hubard (h) – electric guitar
Josh Jones (j) – acoustic and electric guitars, keyboards, drums, MIDI programming, backing vocals
Katherine Lawson (k) – vocals, backing vocals
Liz Nance (l) – backing vocals
Henry Robb (r) – fiddle
Andy Smith (a) – backing vocals
I play acoustic and electric guitars, banjo, harmonica, keyboards, MIDI programming, sing lead and backing vocals. The tracks include these instruments: Taylor 712 CE; Taylor GA K-12-string; Ibanez Artcore hollow body; Bourgeois Vintage D; Hohner banjo; Hohner harmonicas. I use SONAR sequencing software to record and adjust the tracks. I use Apex, MXL and Shure microphones and Fender amps.
Produced by Russell Lawson and Josh Jones
Recorded at The Shop (Fincastle), Red Amp Studio (Richmond) and Third Floor Studio (Richmond)
Mastered at The Shop, November 2011
Tracks:
| | | | |
| --- | --- | --- | --- |
| 1. | Church Hill Tunnel (Lawson) [l] | 2:41 | Chart Sample |
| 2. | Days Gone By (Lawson) [d,h,j] | 4:42 | Chart Sample |
| 3. | Swell (Lawson) [r] | 4:14 | Chart Sample |
| 4. | One More Drink (Lawson/Jones) [j] | 3:29 | Chart Sample |
| 5. | Rush (Lawson) [j] | 3:32 | Chart Sample |
| 6. | Thou Art (R&K Lawson) [k,s,j] | 2:57 | Chart Sample |
| 7. | Same Old Parts (Lawson) [j] | 5:06 | Chart Sample |
| 8. | Delta Blessing (Lawson) [a,j,l] | 2:26 | Chart Sample |
| 9. | Whole Lotta Gone (Lawson) | 3:14 | Chart Sample |
| 10. | Certain Freedom (Lawson) [j,r] | 3:16 | Chart Sample |
| 11. | Get Her Back (Lawson) [k,j] | 2:45 | Chart Sample |
| 12. | Where Are Your Tears (Lawson) [d,h,k,j] | 3:12 | Chart Sample |
| 13. | Record Time (Lawson/Smith) [a,l] | 2:41 | Chart Sample |
A note on the songs:
Church Hill Tunnel – I've known about the Church Hill Tunnel collapse for years, but back in 2004, Mark Holmberg of our local paper did some writing about an attempt to enter the old railroad tunnel and a cable channel (Discovery?) actually came to town to try and get a crew inside, but discovered the whole thing was still flooded. I had a copy of the 1926 front page story and kept it with my composition files until 2008, when an approach to the tale had ripened in my mind and the song formed. You can read more about it in the American Songwriter magazine article on my Church Hill Tunnel lyric from 2009. This was on my 2008 demo. Dr. Walter Griggs of VCU has just published a book (October 2011) on the tunnel disaster and he's included my lyrics. You can get a copy at The History Press, or the Virginia Museum, Valentine Museum or Virginia Historical Society.
Days Gone By – I've been thinking a lot (it's the stage of my life, probably) about the "end times", not of my life, but generally how we all face it. When the financial collapse of 2008 occurred, my wife and I were studying the book of Revelation, and this song was largely inspired by a section in chapter 22, so I gave it a subtitle: Revelation Song. I have sung it at the burial of my younger sister, Marian, and as an anthem at St. James's Episcopal Church. This was on my 2010 demo.
Swell – This started as a song about someone else's obsession, but the final recorded version is about how available God is to us and how abundant His love. This was on my 2010 demo.
One More Drink – The idea of this song came to me in 2003 as a reflection on addiction. As I worked on it, the content was more interesting if the actor in the story was attempting to recover from a lost relationship than from drinking. Many of the best turns of phrase came from my co-writer, Josh Jones. This was on my 2010 demo.
Rush – This is about Pentecost, and the first verse is almost directly from the second chapter of the book of Acts. It is definitely a missions song and was composed with the St. James's Church West Gallery choir in mind. This was on my 2010 demo.
Thou Art – This was inspired directly from a regular prayer that Virginia Whitmire issues in our choir rehearsals, when she thanks God for "allowing us to say Your name." I tried to use just Old Testament scripture for the source of these names, but I probably missed a few. Katherine wrote the descant and it was her idea to set this for the children's choir. This was on my 2010 demo.
Same Old Parts – A long time ago, when Father Greg Jones (the Rock and Roll Rector) was one of our clergy, I asked if he would be interested in co-writing a Gospel tune with me. I took Psalm 130 as my starting point. We traded some lyrics, but nothing was completed before he was called to St. Michael's Episcopal Church in Raleigh, NC. Then, after a trip to Las Vegas resulted in an injury to one of my old joints, human frailty was top of mind, as was St. Paul's admonition that he knew when was expected of him and when constituted good works, but he just could not seem to stop doing the things that went against his calling and God's teaching. This was on my 2008 demo.
Delta Blessing – Written after my first mission trip to New Orleans with members of the choir of St. James's led by Andy Smith, who is in the band Oak Lane with me. This was on my 2008 demo.
Whole Lotta Gone – Written for the Benjamin Rockfish project, which was the brainchild of my friend Dick Upton. He'll have to tell you the concept, after he's back from the Distant Friends Tour. This was on my 2010 demo.
Certain Freedom – I've made a lot of trips down interstate 81, going from my Richmond office to our branch on Southwest Virginia. On the way, I always pass the Greenville exit, where one road leads to the penal institution built to replace the old State Prison in Richmond, now the site of the fine offices and laboratories of Ethyl Corporation and its parent NewMarket Corporation. Every time I passed the exit, lines for the song would roll through my mind. Greenville holds the state's death chamber and this song imagines the death row inmate who longs for death rather than fearing it.  This was on my 2010 demo.
Get Her Back – Written in 1977, during marital hard times. Katherine was the subject and developed the harmony lines over years of singing the song with me.
Where Are Your Tears – Just the same as above. Many songs were written about this troubled time.
Record Time – I started this as a "red letters" song that would just use the actual words of Christ from the New Testament as its text and the "old style" of four-part harmony singing that you might have heard on Gospel radio in the early 20th century. When Andy Smith and I joined forces to complete these thoughts, this rousing bluegrass Gospel song was the happy result. Used regularly in our Bluegrass Mass at St. James's Church. This was on my 2008 demo.
If you've listened and you have any thoughts about the music or writing, I'd love for you to enter them below.